Factories of the Future Community Days
Date: 22-23 May 2019
Location: Brussels, Belgium
The last Factories of the Future Community Days organized by the European Factories of the Future Research Association, EFFRA took place from 22-23 of May at Brussels. The two-day event included different sessions for the upcoming FoF 2020 calls in the morning of the 22nd, followed the next day by different parallel sessions focusing on project results, demonstrators and their impact, covering a broad spectrum of technologies and applications.
On the 23rd Our project HuMan was present showcasing latest results and demos, and also as part of the ACE HuMan Centred cluster along with fellow projects Inclusive, A4BLUE, Factory2Fit, and ManuWork.
All projects had the opportunity to include demos and latest achievements during their presentation. ACE projects solutions have combined their efforts, shared knowledge and best-practices to improve the impact and quality of their solutions. All these will bring a wide range of benefits for workers, employers, and wider industry in Europe including an increased adaptability to provide workers with personalized tasks, higher quality products and productivity levels, an increased worker satisfaction, and interest in pursuing industrial work as a quality career.
Nikos Dimitropoulos from the Laboratory for Manufacturing Systems amp; Automation presented the morning sessions introducing the different actors participating in the event. The first one was EU Scientific Officer, Erastos Filos, who open the day with an introduction talk. The session followed with "Co-Design for Human Centred Manufacturing", where HuMan partner Manuel Oliveira from the company KIT-AR presented the HuMan project from the workers point of view, and how humans benefit from these kind of initiatives. Sharing this topic, projects from the ACE cluster contributed with their valuable point of view.
Manuel Oliveria would repeat in the "Automation mechanisms for the reduction of physical demand at manufacturing workplaces" session where he spoke about the HuMan services that help workers to achieve a better well-being at the shop floor. The morning continued with interesting topics such as Human-Machine Interaction, Training, Learning and Knowledge Sharing and Worker Expectations presented by Anu-Hanna Anttila from the Finnish Industrial Union, closing the morning session.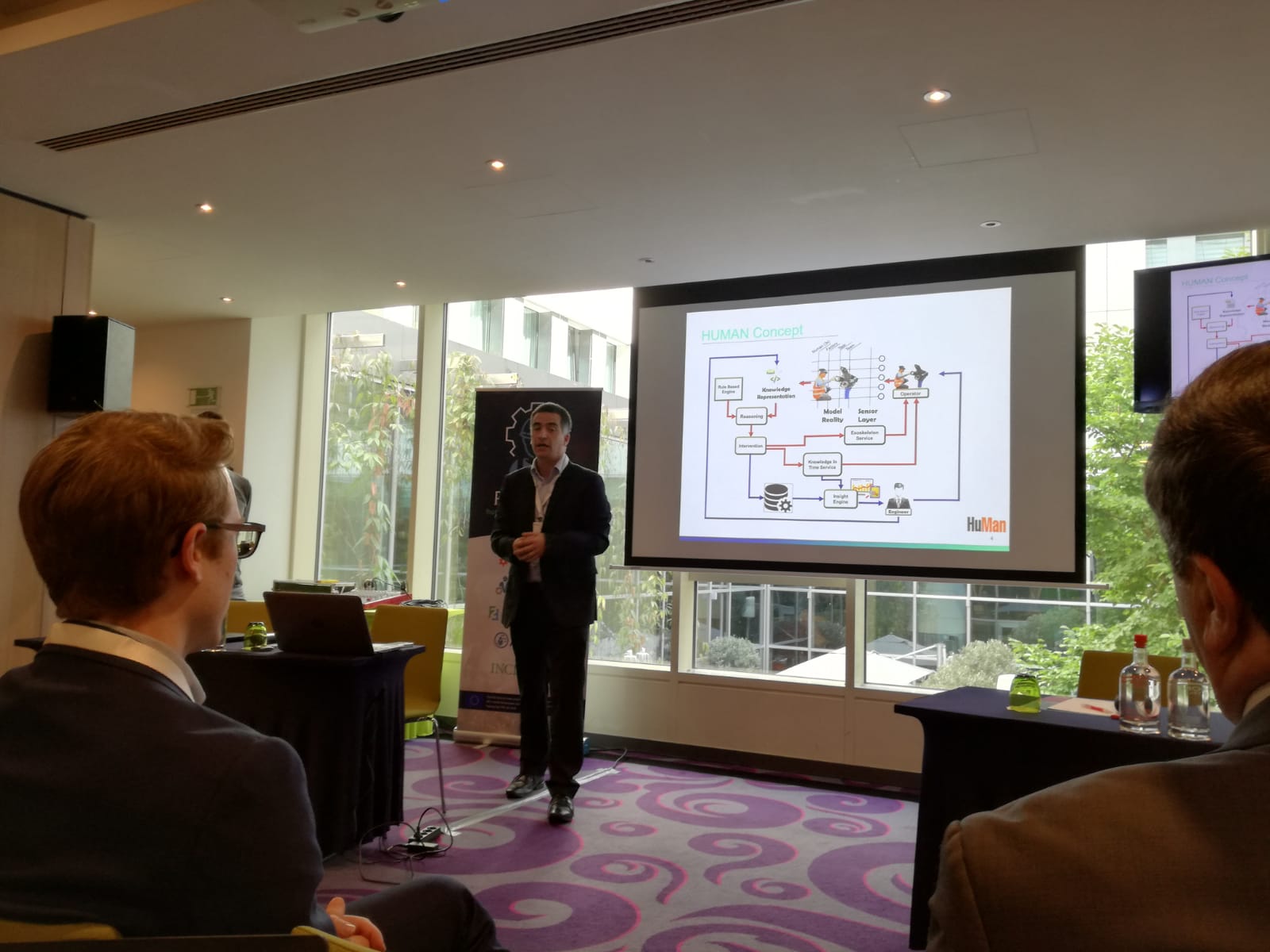 During the afternoon, all demonstrators were showcased in a room dedicated for such an interesting occasion. HuMan demos were presented to the numerous people attending the sessions. Manuel Oliveira started with Knowledge in Time or (KIT) service, our industrial AR solution for operators on the shop floor. This HuMan service provides AR instructions and guides on individual assembly items providing the right information at the right time.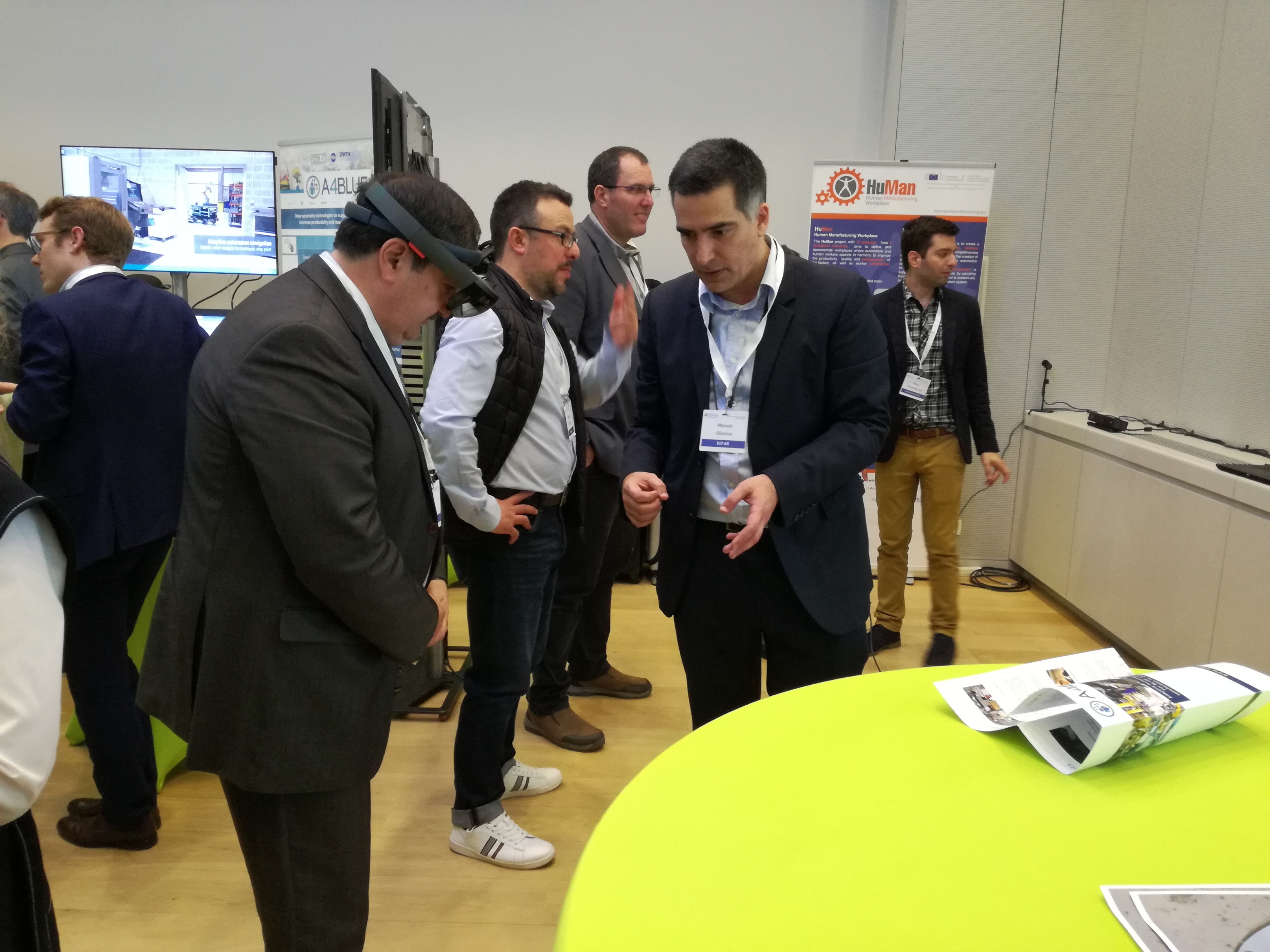 Right after, Nikos Dimitropoulos showcased another key HuMan service, the WOS, or Workplace Optimisation Service: This is a VR solution for optimising the workplace as its very own name implies. Both services are part of the HuMan offering along with the Upper and Lower Limb Exoskeletons, the Shop floor Insight Intelligence (SII), and the Operator Awareness and Support Tool (OAST).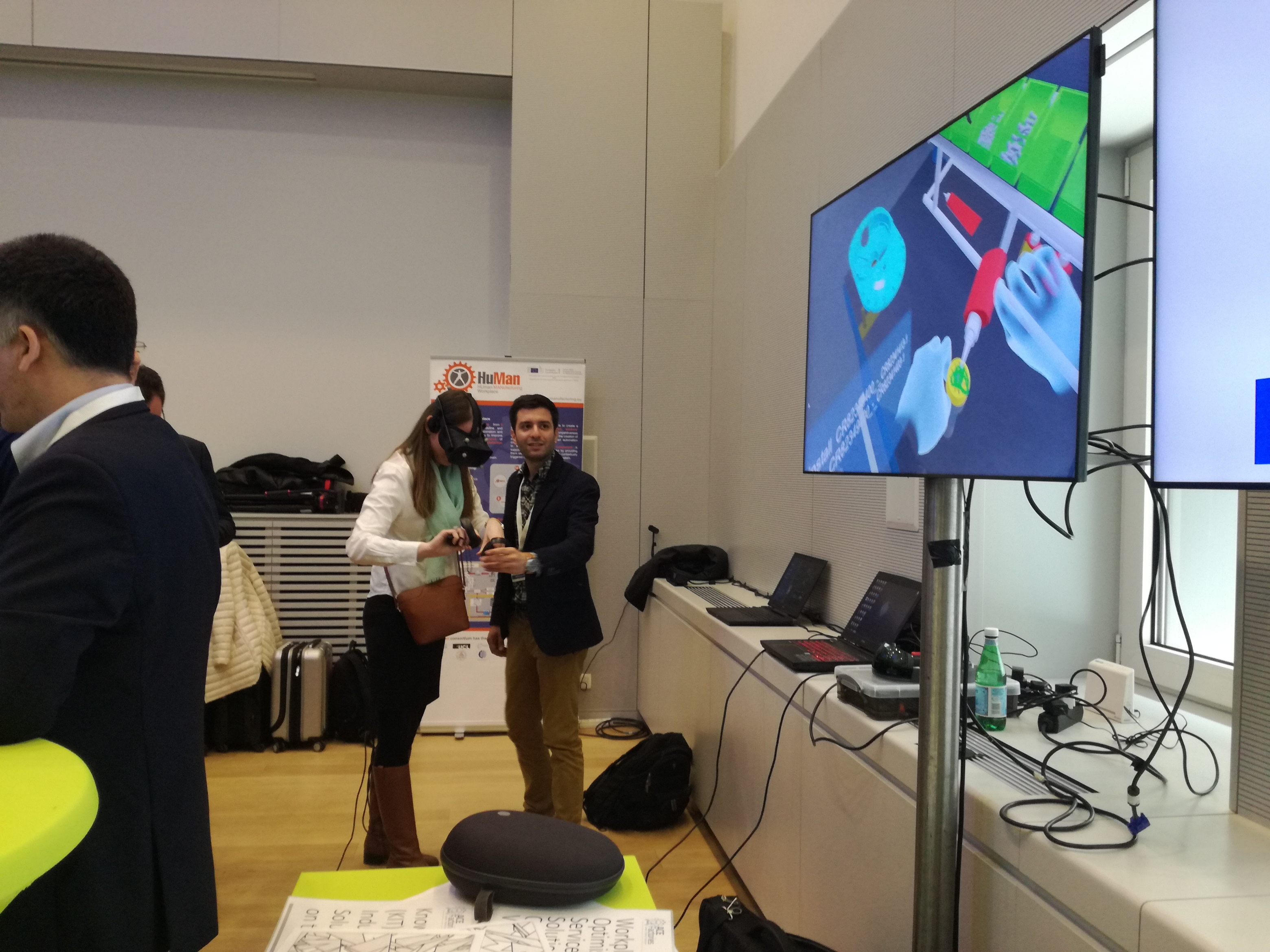 Check this link for more information on the HuMan services.